Follow Nate Timmons (B.B.A.'18, Finance) as he traverses the nation in a quest to profile a dad from each state. Read about his project, how he's covering the expenses, and the experience of driving a 30-year-old Volkswagon Van (affectionately named Vanah White) across the country.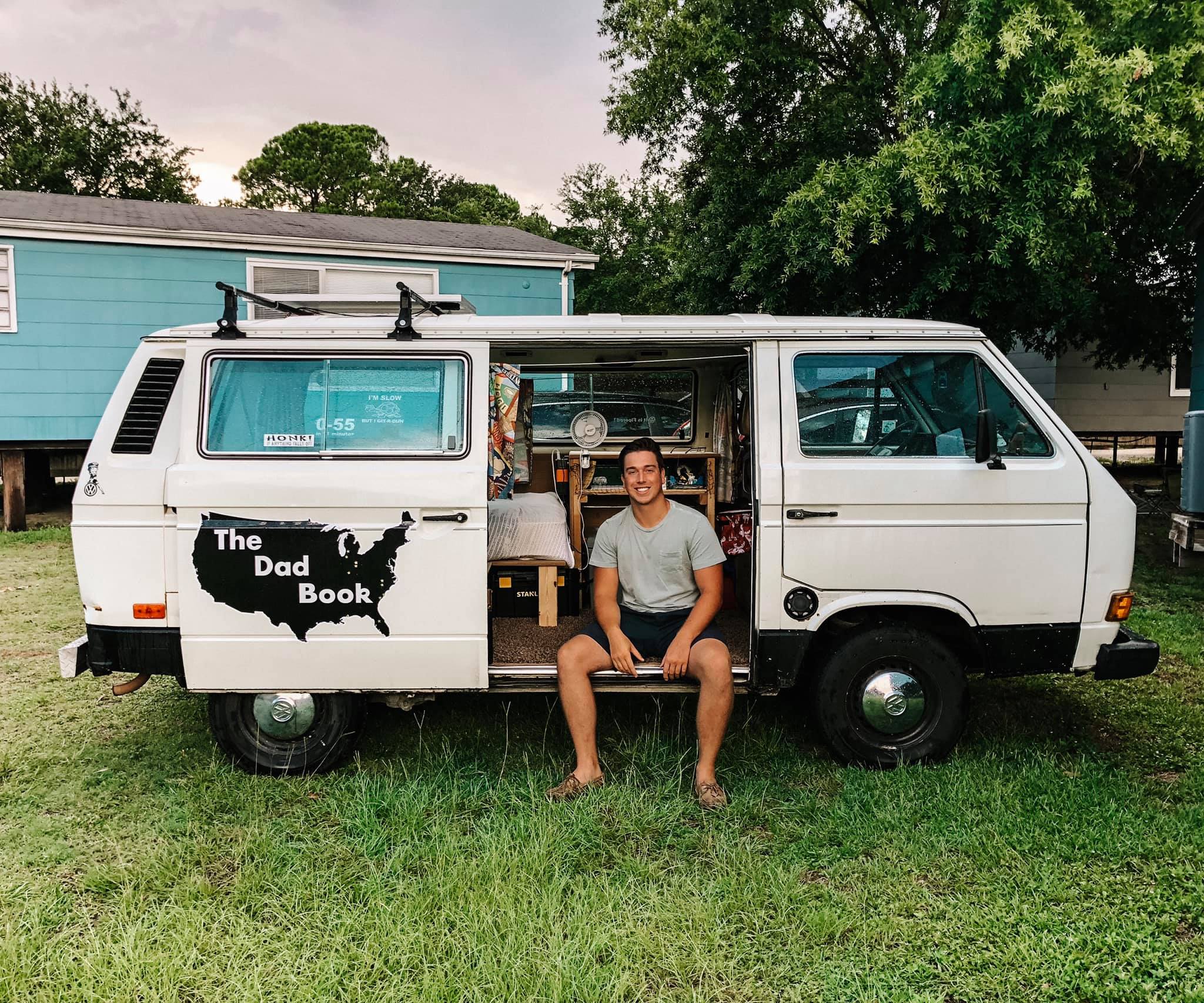 I came up with the idea for The Dad Book during my Sophomore year at Western. That week, something had broken in our apartment and I called my dad (a carpenter) to see if he could come over to fix it. Sure enough, he knew exactly what needed to be done. I asked my roommates, "Isn't it crazy that dads seem to know how to do a little bit of everything? There must be a book they're given at the hospital when they have their first newborn. A collection of memoirs from other dads about their experiences during fatherhood; a "Dad Book" of sorts."
Over the next few years while pursuing my degree, I began formulating what "The Dad Book" would ultimately look like. Sure, there is no book (and never will be) that shows step-by-step how to be a good dad and The Dad Book doesn't seek to do that. Instead, it seeks to highlight dads with incredible stories of overcoming adversity, the highs and lows of fatherhood, and so much more. To do this, I'm traveling 13,000 miles in a 1985 Volkswagen Vanagon to all 50 states to interview one dad in each state. These 50 interviews will be broken into three parts:
Twenty how-to's that every dad should know how to do, including how to change a spare tire, how to cook the perfect steak, and how to mow the perfect lawn. Each how-to will be from an "expert" on the topic; car mechanic, pit master, and a groundskeeper for a Major League Baseball team.
Ten "quirky" how-to's, including how to surf and how to set up the perfect tea party.
And finally, 20 interviews with dads and dad-like figures that have experienced a unique aspect of fatherhood. Included in these interviews are a same-sex couple raising a family, a single mom (a self-proclaimed "dad-mom") who has collectively raised eight children by herself, and a father that overcame addiction to watch his children graduate college.
At the end of the book, there will be a number of pages left blank titled, "What I would want to tell you..." This way, a parent can write their own advice or stories about their children growing up and pass it down from generation to generation.
I've been on the road for a little over 100 days now, having traveled through 18 states: MI, IN, OH, KY, TN, NC, SC, GA, FL, AL, mS, LA, AR, MO, KS, NE, IA, and IL (in that order). Although every day is an adventure, filled with exciting stories, one of my favorite experiences was meeting Dawn, the self-proclaimed dad-mom. I was sitting in a parking lot and Dawn stopped to ask if she could take a picture of my 1985 VW Vanagon. We got to talking about my endeavor to interview 50 dads and dad-like figures when Dawn mentioned she had raised three children by herself and that every year, her kids got her a gift for Father's Day. I asked her on the spot if she would be interested in being in The Dad Book and the next night we met for dinner to do an interview about her experience as a dad-mom.
Every day is unexpected when you drive a 30-year-old Volkswagen van, with people honking down the highway as they pass by, or people stopping to take pictures in parking lots. My van has opened conversations that led to unexpected interviews on radio shows about my journey. It's also led to a guy asking if I was afraid of heights, and 30 minutes later we were flying in a 2-seater plane (a glider of sorts) around an island. While I was in the Great Smoky Mountains, I was sitting in my van getting ready to leave when I heard, "Oh my gosh, that's Nate Timmons with The Dad Book. I went on a study abroad trip to India with him." Sure enough, a girl that was on the India study abroad trip led by Dr. Tim Palmer of the Haworth College of Business was in the Smoky Mountains at the same time. We caught up and made dinner in the parking lot at the top of one of the mountains. While sitting at a Starbucks in Orlando to cool off, I shared a charger with a Universal Studios employee who was so moved by my story that they provided two free day tickets to Universal for me and my girlfriend (who was flying down to visit that week).
I'm allocating about five days to each state, so my total trip is estimated to take about 250 days (roughly nine months). I retrofitted my van with a bed, solar panel, cooking materials, etc. I have a Planet Fitness membership that I use to sleep in Planet Fitness parking lots overnight, using their shower facilities to not smell like I live in a van (LOL). I'm trying to include what the state is "known" for in certain interviews, for example Hawaii is the surfing dad, Alaska is a professional fisher, and Indiana is an Amish dad.
I also have plans to do some volunteer work in St. Louis; Kanab, UT; and New Orleans while on my journey across the states. These areas in specific are parts of the country that I did volunteer work with while at WMU through Alternative Bronco Breaks, a registered student organization that sends students to regions of the US to do volunteer work during winter, spring, and summer break.
These opportunities to step out of my comfort zone (and home town) of Kalamazoo allowed me to build the confidence to travel to all 50 states by myself. In addition to the travel aspect, the support from alumni and friends that I met while at Western have made this entire experience possible. On days that I'm feeling anxious about my trip, or sitting in a Planet Fitness parking lot questioning why I'm doing this project instead of using my degree in the corporate world, I find phone calls with my life-long friends that I met at Western to be just the thing I need to keep me going.
One of the big questions I get is how I make money on the road. Although this could be an entirely separate article, the short brief is reselling items that I find at thrift stores across the country on eBay, participating in online focus groups, and transcribing the closed captions for videos. I say this because I know looking back on my time at Western I would have loved these options to make income while in my dorm room/apartment.
Learn more about The Dad Book and follow Nate on his unique journey through the following channels: