From a young age, Courtney Stevens' goal was to help people, and somewhere along the way, she decided that she could best do that as an industrial engineer. "I don't remember what research I did (as a high school student) to come to that conclusion, but I remember thinking industrial engineering would get me to where I could help people," Stevens says.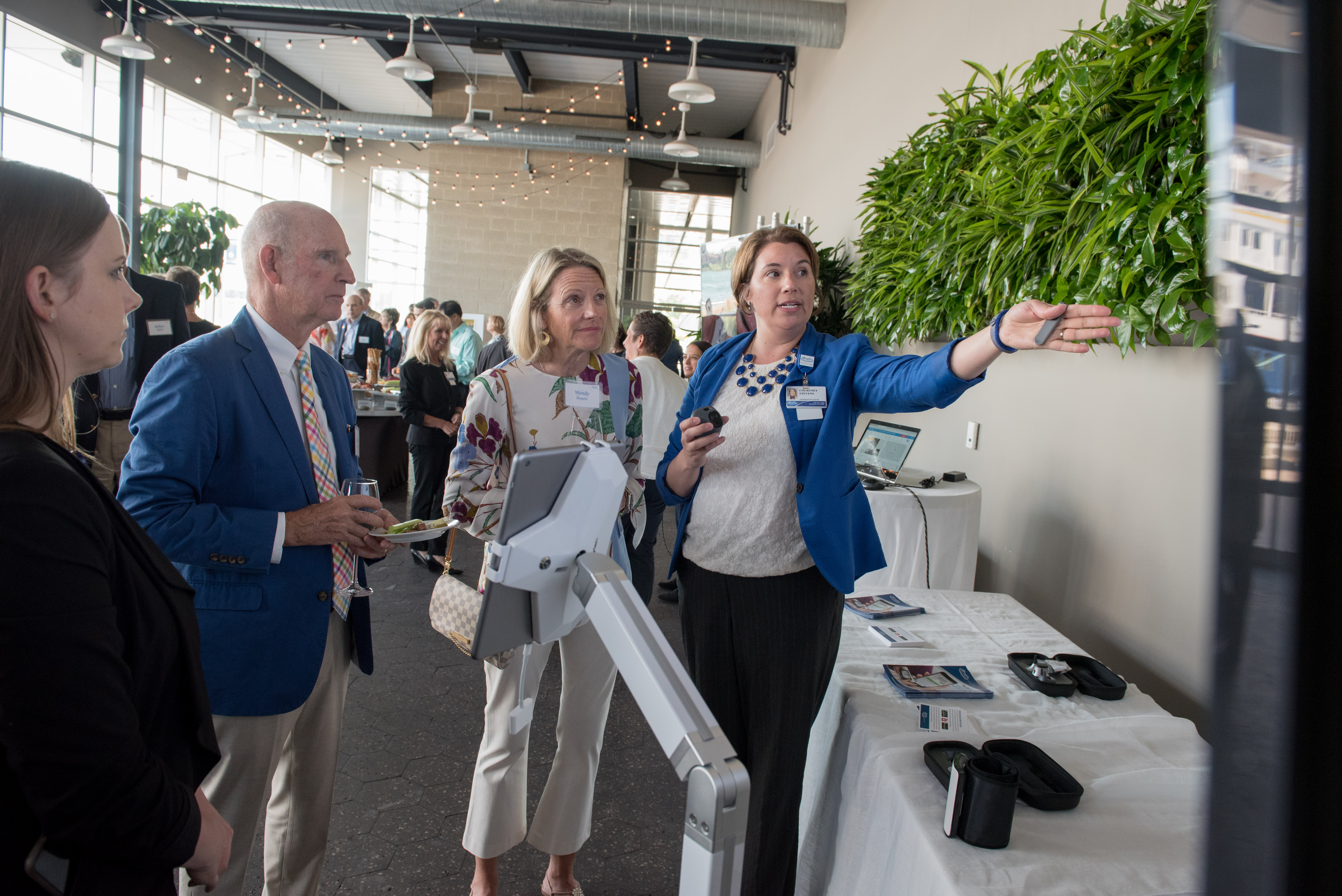 Fifteen years into her career, Stevens is making a positive impact on how thousands of people engage in health care every day. The 2004 Western Michigan University industrial engineering graduate serves as the director of virtual care for the Henry Ford Health System in Detroit. Virtual care, or telemedicine, is an emerging option for the delivery of health care services using information and communication technologies, for example, patient/doctor interactions conducted via video, from wherever the patient is rather than face-to-face in the doctor's office. Stevens points to lessons learned at the College of Engineering and Applied Sciences as a significant contributor to her success.
Industrial engineers, Stevens says, are the connective tissue joining different project components and groups and must understand all parts for smooth project completion. She relies on her WMU experience as she progresses through her career, particularly opportunities gleaned from Western's interactive class environment and connections formed with classmates and professors. "I had connections with classmates that helped me begin to understand how to work on a team," she says. "The faculty stressed deadlines. I was given opportunities to work with professors in small group settings and do research work outside of the classroom."
Even the smallest details of her WMU education benefit her today. "I remember the class where they taught you to write an effective memo and when they taught you how to deal with difficult people. At the time you're wondering 'When am I going to use this?' But I use these skills on a daily basis," Stevens says.
The skills learned at WMU have been beneficial to Stevens throughout her career which began in 2004 as a senior product engineer for TRW Automotive Occupant Safety Systems. Later in 2007, a colleague encouraged her to join her at the Henry Ford Health System. "But I thought, 'I don't like blood, so I don't want to work for a hospital.'" Stevens overcame her objection, applied for a position with Henry Ford, and joined the health system as senior management engineer. It was the perfect situation for her because "I wanted to work with people, not widgets."
Since then, Stevens has worked in a variety of roles for Henry Ford and, most recently, created and developed the health system's virtual care program. And she still relies on lessons learned at WMU. "I look back at work design, operational research, engineering economics, and project management classes that really set me up for how projects and organizations should function," Stevens says. "They (the classes) seemed like different building blocks at the time, but once you're out working, the building blocks all fall into place, setting a strong foundation to grow on."
During the early stages of creating the virtual care program, Stevens was a solo operator as she explored the growing field of telemedicine and fashioned Henry Ford's strategy. Now she leads a team of six. "We're the subject matter experts and enablement department that works with clinical departments throughout the hospital to deploy virtual care in their operations," she says. "The only way we've survived is, we've embedded process improvement into our DNA, evolving processes as we learn and grow within the organization and as virtual care grows as a clinical care delivery option."
The virtual care market will only continue to grow, Stevens says. "Telemedicine is skyrocketing. Projections are that visits by 2022 will be 105 million, and one in 10 doctor visits will occur virtually," she says. "By 2029, revenue will be about $28 billion in the U.S., and virtual visits will outpace in-clinic visits. There will always be a need for in-person, traditional in-clinic visits, but virtual care will increase as the population ages."
Stevens remains active with the College of Engineering and Applied Sciences by serving on the Industrial and Entrepreneurial Engineering Advisory Board. "Courtney has been an integral part of our advisory board for several years. She brings an innovative healthcare and service perspective that many of our students are seeking in an engineering program," says Dr. Steven E. Butt, who served as chair of the Industrial and Entrepreneurial Engineering and Engineering Management department since 2014 until his recent appointment as the college's interim dean.
Stevens sees developing Henry Ford Health System's virtual care program as her most significant professional success since graduating from WMU. "I'm in a role now where I'm developing something new in an industry that is centuries old. Henry Ford Health System just had its 100th anniversary, and here I'm creating something new," she says with excitement. "What I really appreciate about what I do now is that I'm helping people, even though I may not have to lay hands on them myself."