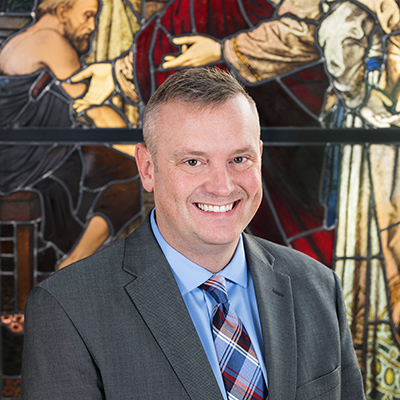 Chris Slater (B.B.A.'09, Accountancy) was a first generation college student enrolled at KVCC and WMU without a clear understanding of what he wanted to do until he visited WMU's Career Services. After taking the Myers-Briggs assessment, which indicated his areas of strength, Chris chose accountancy because it was a subject that he was proficient in. 

After graduation, Chris sat for the CPA exam and began working as a public accountant for Plante Moran in audits for non-profits and higher education. Chris immediately started to gravitate toward the non-profit side of his work, feeling that those organizations were truly making a difference in their communities. 

Chris had also decided early on that one of his goals was to become a CFO, and was constantly driving himself to work harder and do better. He moved to United Way in Grand Rapids, serving as controller and then VP of Finance. But Chris, in his pursuit of doing more and doing better, wanted to work for an organization that had more direct impact. He saw a position posting for Catholic Charities West Michigan and served as CFO for 3 years. In mid-2018, Chris was appointed CEO of Catholic Charities West Michigan and now leads the organization. 

At Catholic Charities, Chris sees the daily impact of the work the non-profit provides, including foster care services for over 300 children in the area and 175 foster parents. Catholic Charities also has food programs and behavioral health services that tackle the difficult family and personal dynamics around substance abuse and mental health problems. In total, the agency has more than 30 programs that serve those in need throughout the Diocese of Grand Rapids, Traverse City and Kalamazoo. They work to not only help those in need but to engage with area parishes and parishioners on how to help further their mission. 

"The gospels tell us to help the most vulnerable people," Chris said. "This is why Catholic Charities does what we do, especially for the children, the hungry and the under served."

In his spare time, Chris and his wife Courtney, a nurse at Bronson, have fun with their 4-year-old fishing for perch, bluegill and bass.