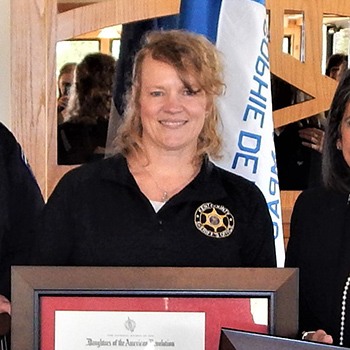 In celebration of Women's History Month, the Grand Rapids-based Sophie de Marsac Campau Chapter, National Society Daughters of the American Revolution (DAR) recently recognized three local women for their work in the community, and one of them is WMU alumna Michelle LaJoye-Young, Kent County Sheriff.

During Women's History Month, DAR chapters around the country regularly recognize women who are, or have been, intellectual, educational, social, religious, political, scientific, or cultural innovators in their communities. Recipients receive a Certificate of Award for Women in American History and a Women in American History medal.

"All three of these women have worked diligently to improve the strategies and effectiveness of their organizations to better meet the needs of our community," said Marcia Kaye, Chapter Regent. "We chose to honor them because they have displayed excellence in their roles, and clearly demonstrate the vital role women play in American history." 

Michelle LaJoye-Young is the first female sheriff in Kent County's history, and over a nearly 30 year Sheriff Office's career was also the first female lieutenant, captain, chief deputy, and undersheriff. She was formerly a captain in the Michigan Army National Guard/Army Reserve. Ms. LaJoye-Young is a graduate of Michigan State University, Western Michigan University and Northwestern University School of Police Staff and Command. 

The Sophie de Marsac Campau Chapter is one of the oldest DAR chapters in the United States and is the second oldest chapter in Michigan. DAR was founded in 1890 to promote historic preservation, education and patriotism. Its members are descended from the patriots who won American independence during the Revolutionary War. With nearly 185,000 members in approximately 3,000 chapters worldwide, DAR is one of the world's largest and most active service organizations. DAR members are committed to volunteer service having served more than 12.5 million hours in communities throughout the world during the past three years. To learn more about the work of today's DAR, visit www.DAR.org.