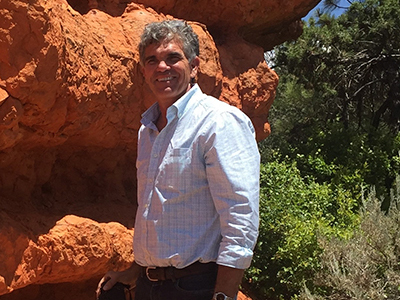 Al Stefanski (B.S. '83, Electrical Engineering) always enjoyed building things, so when he applied to college, he knew he wanted to be an engineer. WMU was recruiting him for his cross-country and track abilities, so the combination of athletic scholarships and a rigorous engineering program made the school a good fit.
"Every day in engineering school was really showing me a path to find the answer or solution in the real working world. I can't tell you how many times I solved problems for myself and others and looked back and thought, someone could have spent their entire life on that one issue and never figure it out unless they had been exposed to the knowledge of where to go and how to use the information to solve the problem," Stefanski recalled. "Engineering school gave me the ability to solve problems in minutes instead of years because I was exposed to theories and tools other people simply did not possess."
After graduating, Stefanski spent the next few years working for GM before being recruited by AutoLogic Fox Systems, an engineering firm that supplied control systems to the Big Three Automakers. He then moved to his current position serving as president at W.F. Wells, where he combines his knowledge of electrical engineering with mechanical engineering and computer science to produce bandsaws—but not just any bandsaws. The bandsaws produced at W.F. Wells can cut anything in the world, from steel to sapphire. They are unique not just because W.F. Wells is one of the few U.S.-based companies that manufacture these saws, but because they can cut materials other technology, such as torches and lasers, can damage or burn. Today, Stefanski sees the inside of manufacturing operations of automakers, the military, and silicon valley, consulting and designing saws to cut any type of product.
He most enjoys customers happy with the product designed, manufactured, and assembled by W.F. Wells.
Stefanski also has a trove of good advice for those interested in embarking on a path similar to his. First, he reminds recent graduates they are heading into a profession that has new value.
"To maintain a strong economy you must have leading edge products which require engineering skills. There's going to be a great need and demand for your skills," he said. "Sky is the limit as to what you may do with your engineering degree, and I see nothing but opportunity--many jobs and financial gain--for today and the near future."
He also wants to remind future and recent graduates that while engineering school curriculum can be difficult, your career should be more enjoyable. "I remember the long nights of solving homework problems and continually worrying about tests," Stefanski recalled. "Your career after school 'can and should be fun' and much less stressful because you get to apply everything you have learned. The more you apply your knowledge, the easier engineering becomes, which allows you to be more creative. Creativity and engineering combined is the ultimate goal. If you have both there are no limits!"
Finally, Stefanski reminds those new to the engineering field to not judge themselves too harshly when they're new to the job. He recommends taking the time to adjust from college to a work environment.
In his spare time, Stefanski still runs and has trained and competed in an Iron Man triathlon with his wife and fellow Bronco, Veronica, an art teacher. He also enjoys sailing, fishing, camping, ice boating, snowmobiling, and mountain biking.