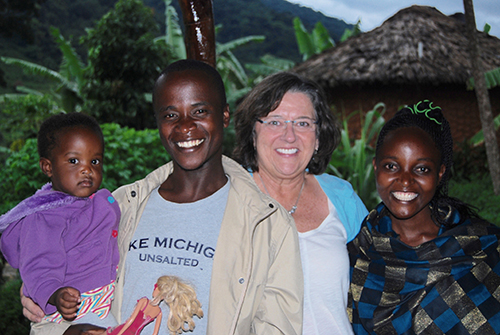 As a student, Cindy (Finkbeiner) Anderson (B.S.'72, Speech Pathology and Audiology; M.A.'74) traveled to the Netherlands as part of a study abroad program for general education student teaching. The experience sparked a lifelong appreciation for travel and connecting with others all over the world.

Cindy, who was active on campus and worked multiple jobs, graduated from WMU and went on to have a successful career in speech pathology in the Grand Haven Public School System. For years, she worked with students on their speech and developed a number of special programs including a language development immersion program called Talk School. Cindy laughs that many of the leaders in Grand Haven and surrounding areas were once her speech students--students that had to overcome speech issues in order to be where they are today.

After retiring in 2000, Cindy and her husband, Don, decided to travel the world, including a 2013 trip to Bwindi, Uganda to see mountain gorillas. The journey also included a tour of a local school, a small shack with a dirt floor, no books, no desks, and no writing materials. After returning home they decided to make a small gift that would allow villagers to build desks, and over the years have funded textbooks, writing materials and even assisted with the construction of a second school. In 2015, the school administrator had a daughter who he named Cindyanderson Elizabeth Agaba.

Cindy has also returned to the Netherlands, where her passion for travel began as a young student, and enjoyed visiting with friends she made there so many years ago. 

Today, Cindy and Don serve their local community through boards and other efforts. They continue to travel the world, meeting new people wherever they go. 

Pictured are Cindyanderson; Moses, a friend; Cindy; and Elizabeth, Cindyanderson's mother in 2016.