The stereotype of the "broke college student" surviving on ramen noodles and boxed macaroni and cheese is familiar to most. Students, short on cash, buy the cheapest, yet most filling foods they can find. But what happens when students can't afford even the least expensive food options?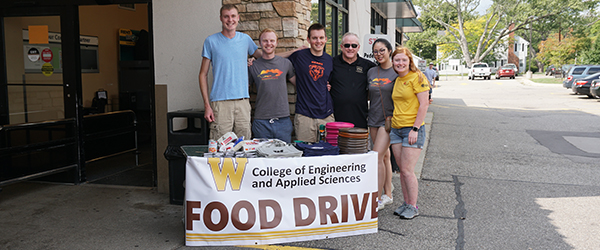 Since 2014, Western Michigan University students have been supplementing their groceries with non-perishable food items from the campus food pantry, Invisible Need and, since 2017, College of Engineering and Applied Sciences' students have been collecting food for the pantry. Twice a year, nearly two dozen students gather food at Stuff the Bus, a day-long food drive at D&W Fresh Market on Parkview Avenue in Kalamazoo.
Debbie Czerniakowski, a chemical engineering student, began volunteering for Stuff the Bus through the student chapter of the American Institute of Chemical Engineers the first semester she arrived on campus. September 2019's food drive was her fifth.
"When I found out what Invisible Need was, it was inspirational. I'm fortunate that my parents can help me, but a lot of students aren't in my situation," Czerniakowski says. "Some students have to decide, 'Do I buy groceries this week or a lab manual?'"
Unfortunately, college students without ready-access to quality, affordable food is a nationwide problem. A 2018 study by the Hope Center for College, Community, and Justice of 86,000 students found that 45% of the students said they did not have access to enough food in the previous 30 days. This food insecurity is the driving force behind Stuff the Bus.
"I can't stomach the thought of a student being hungry," says project coordinator Jamie Long, a former Chemical and Paper Engineering Department administrative assistant who now works for the Haworth College of Business. More than 10,000 pounds of food – including more than 2,000 pounds this September – have been collected through Stuff the Bus, Long says.
Students are the real heroes of Stuff the Bus, Long says. Before daylight, College of Engineering and Applied Sciences' students arrive at D & W with three student-designed vehicles – Sunseeker, Formula SAE, and Baja SAE – which attract attention to the event, bringing in interested community members who then donate food and cash to the cause. From 8 a.m. to 6 p.m., food is collected in the Sunseeker's trailer, and students take donated money into the store to purchase items from the food bank's list. By the end of the day, more than 2,100 pounds of donated food covers the floor of the 26-foot-long trailer.
The long day is worth it to the students, Long says. "They recognize they are helping feed those who can't eat."
Mechanical engineering major John Hungerford says he and the other engineering students are happy to assist with Stuff the Bus. "It's a good way we can give back to the community," he says.